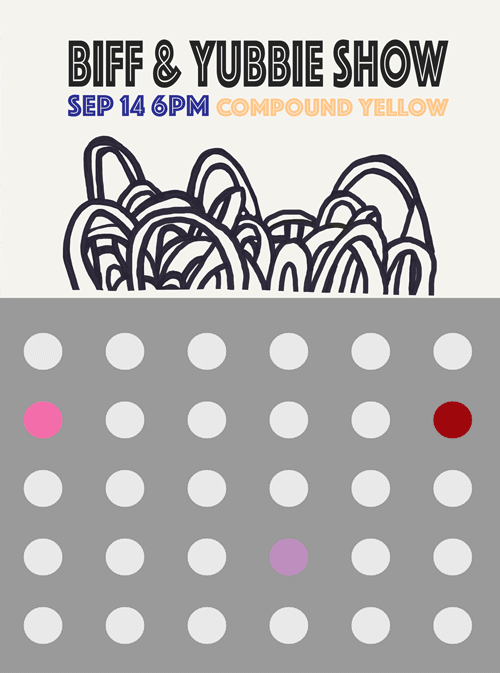 THE BIFF & YUBBIE SHOW
Join us for the opening reception, Friday September 14th from 6pm to 9pm.
The Biff & Yubbie Show is a visual collaboration between two art lovers who have worked in a variety of creative cultural industries in Chicago for the past three decades. The title references the artists' nicknames--"Biff" is Michael Dain and "Yubbie" is Elizabeth Burke-Dain. They have been known by these names since childhood.
Michael's sculptures represent a lifelong fascination with high and low technology, light, shadow, and form, while Elizabeth's site-specific installation (composed of pliant pool toys) creates a visual cohesion--and playful counterbalance--to the geometric structuralism of Michael's work.
Michael Dain has shown with Chicago's Kavi Gupta Gallery, Ten in One, the Chinn Gallery, and the Weir Gallery. He currently teaches user experience design at Northwestern University and is a director at the Chicago advertising agency Foote, Cone & Belding. He received his Masters degree in Human Computer Interaction from DePaul University.
Elizabeth Burke-Dain is curator, artist, and marketing and media professional. She has dedicated her career to promoting and elevating the arts in Chicago and nationally through the many positions she has held with the Poetry Foundation and Poetry magazine, the Art Institute of Chicago, Columbia College, Garfield Park Conservatory, and as co-founder of Around the Coyote. As an artist, she is inspired by designs found in nature and she works in a variety of materials from ceramics to assemblage.